Radio Surfing - Hear the World on Your Computer
By Thom LaCosta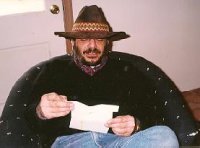 Blame it on the cat -- a frantic feline dash across the computer desk provided an opportunity to surf the globe for radio stations providing audio on the Internet. My trusty pocket radio was on the floor in pieces, it was 3 am, and I needed a Blue Grass Fix. No need to dash out and buy a radio ... there is a software solution to the problem.
A quick visit to http://www.earthtuner.com/ opened up a new world of Internet usage. Earthtuner is an application for Windows 95/98 and NT that is capable of receiving over 85% of streaming media on the Internet, allowing you to tune in to radio, TV, and other programming from all around the world.
Earthtuner is a real no-brainer -- you don't need to know where the stations are located, their call sign or even their internet address -- an animated globe allows you to pick almost any country or state with animated mapping. By double-clicking the location, you'll see all of the stations available for that area. Click on a link and you'll listen and watch live broadcasts from around the world.
If you'd rather make selections by means other geographical, an integrated search engine can find a particular station, a listing of talk or news stations, or your choice of dozens of stations playing your favorite type of content;
Adult Alternative, Adult Contemporary, Oldies, Classics, Pop, Folk, NewsTalk, Talk, Rock, Hits, News, Alternative, College, Jazz, Classical, Blues, Public Radio, Classic Rock, Sports, Religious, Easy Listening, Variety, Country, Dance Music, Hip Hop, Ethnic, Rap, Latin, TechTalk, Urban and several other categories.
If you're a real radio junkie, you can browse the entire 1400 station database to get a sampling of how amazing Internet Media can be. Once you've found some favorites, the program can save them in Bookmarks and Preset buttons so you can go back to them anytime in seconds.
Maryland's audio sources in the database are somewhat limited;
Alternative - WMUC FM - 88.1 fm - College Park - University of Md, Classic Rock - WOCT - Classic 104.3 - Baltimore, Rock - WZBH - Ocean City Rock - WIYY Rock in Baltimore, NewsTalk - WCBM - Baltimore, Talk - Liberty Works Radio Network, Adult Alternative - WRNR FM - 103.1 fm - Baltimore MD, NewsTalk - Sports - WBAL Baltimore, Religious - WRBS - Baltimore.
Earthtuner is more than music, you can hear news and commentary from around the world, and with the ability to see video clips that some Internet content providers offer.
The price is right -- the developer of Earthtuner is providing the software at no charge in anticipation of a new product rollout. No date has been announced for the end of the "free-bee" period.
Earthtuner is easy on your hard drive, memory and CPU.
To use Earthtuner, you MUST have: Windows95, Windows98, or WindowsNT, an Internet connection, soundcard, and 3 megabytes of free disk space. The recommended minimum system is: Pentium 100 or faster, 16 megabyte memory, and a 14.4 modem (28.8 required for many stations).
Systems below the minimum requirements may work, but the developer makes no promises. If your system has more horsepower than the minimum, you'll see better performance, especially with video playback.
The cat is forgiven -- no more batteries for the "computer radio."
© 2000 Thom LaCosta
Thom LaCosta is webmaster at BaltimoreMD.com -- you can email him at comments@baltimoremd.com
Copy, Layout and Design Copyright © 2000 by Thom LaCosta
All Rights Reserved