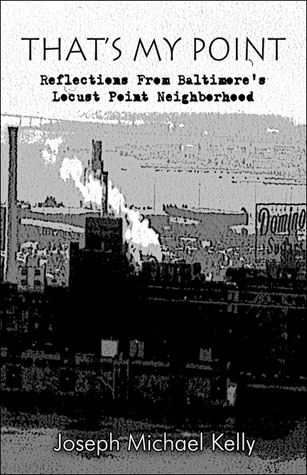 Bawlamer native Joe Kelly, who is no longer eluding arrest on the streets of Baltimore, has written a book, Thatís My Point, about growing up in the 1970's and 1980's in the working class neighborhood of Locust Point before the invasion of the "new people. Joe's book, sometimes serious and sometimes humorous, represents an honest journey into what it was like growing up in an Irish-American, Catholic family "Down The Point".

Author Joe Kelly reflects on the events and people that made him laugh, cry, and ultimately grow up on the sometimes-tumultuous streets of South Baltimoreís little jewel home of The Star Spangled Banner.

Joseph Michael Kelly, a widely published newspaper and magazine writer and editor, has earned various journalism and editorial excellence awards for his work. His writing credits include The Baltimore Sun, The Maryland Coast Dispatch, and Peninsula Magazine, to name a few. He lives in Baltimore County with his wife and two children. Learn more about Joe and his book.