Baltimore Streetcar Museum
1901 Falls Road

We're easy to find! Just follow the directions below.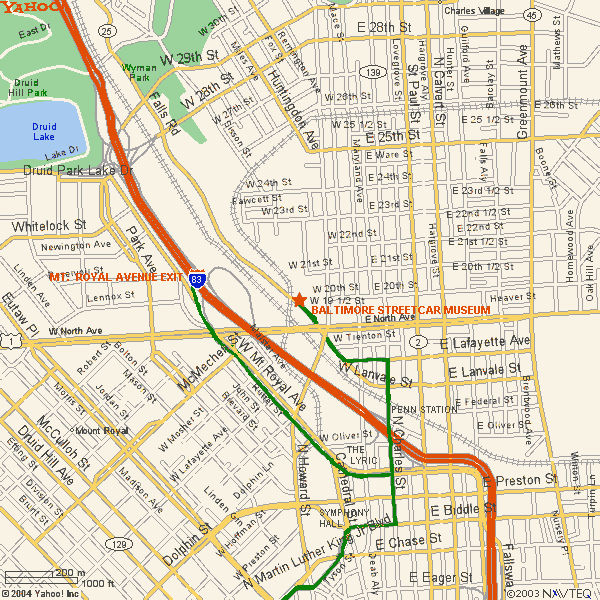 FROM NORTH OF BALTIMORE FROM THE JONES FALLS EXPRESSWAY (I-83) AND THE
BALTIMORE BELTWAY (I-695)
FROM SOUTH OF BALTIMORE FROM I-95, I-395 AND THE BALTIMORE-WASHINGTON PARKWAY
From I-95, look for the I-395/Martin Luther King Boulevard exit.

From the Baltimore Washington Boulevard, look for the Martin Luther King Boulevard exit.

Once on Martin Luther King Boulevard, remain on the Boulevard past the Maryland State Office Complex at Howard Street. Do not turn onto Howard or Read Streets.

After crossing over Howard Street and the Light Rail tracks, you will bear slightly left and then past Symphony Hall.

Go past Cathedral Street and Maryland Avenue. You will be on Biddle Street.

Turn left onto Charles Street.

Go past Mount Royal Avenue.

Go past Pennsylvania Station on the right.

At the second traffic past Pennsylvania Station, turn left onto Lafayette Avenue.
Continue on Lafayette Avenue past Maryland Avenue and down the hill.
At bottom of the hill Turn right at stop sign onto Falls Road. Ignore the "Falls Road Closed" sign. Falls Road is open for Museum traffic.
The Baltimore Streetcar Museum is two blocks up Falls Road on the right hand side. Look for the streetcars!

If you are at Harbor Place or downtown Baltimore, follow Charles Street north to Lafayette Avenue, turn left and proceed to Falls Road. Turn right at Falls Road.
---
Baltimore Streetcar Museum
410-547-0264