Baltimore Street Car Museum's
You should be redirected to our new site
http://www.baltimorestreetcar.org/event1.html
in a few seconds -- or, you can click the Administrator graphic to go there now.
Once there, PLEASE sign up for the notication service at the bottom of the home page.
Thanks, the folks at BSM.
---
Upcoming Events and Points of Interest
WE'RE READY FOR THE HOLIDAYS! PLEASE JOIN US!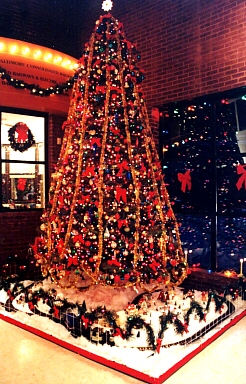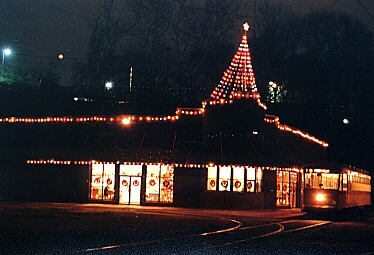 SANTA'S TINSEL TROLLEY visits again on December 10, 11, 17 and 18, 2005 (Saturdays and Sundays) from 1:30 P.M. to 6:30 P.M. Tired of those long lines in the malls? Tired of that BORING "see Santa Claus, get your child's picture taken and that's it" routine? Tired of the mall traffic? Do something educational and fun with the kids! Take an authentic Baltimore streetcar with your kids to Santa's Workshop (Baltimore Division) and visit with the Jolly Old Gentleman himself. Admission is $6.00 for all adults and $4.00 for all children (through 11 years of age.) We're sorry, but passes and reduced admission coupons will not be accepted during this special event. Please visit the Santa's Tinsel Trolley Website.
DECEMBER 25, 2005 - Santa and his helpers will be resting up from Santa's Tinsel Trolley. BSM will be closed Christmas Day.
JANUARY 1, 2006 - We're planning to be open as usual for our regular hours.
To verify an event or if you need directions, you are encouraged to call, prior to your visit,
Baltimore Streetcar Museum's Information Line at 410-547-0264 on the day of the event.
---
POINTS OF INTEREST AT B.S.M.
NOW AVAILABLE IN OUR GIFT SHOP . . .
THE HOLIDAYS ARE COMING - Visit our Gift Shop to pick up that unusual holiday present. We have Leanin' Tree Christmas cards on sale, too in addition to kid's items.
Our long-awaited B.S.M. souvenir book, A Guide to the Baltimore Streetcar Museum, is available in our Gift Shop. This 36 page volume, edited by Andrew S. Blumberg, includes:
A history of the Baltimore Streetcar Museum
A detailed roster of the equipment in the Museum's collection
Selected milestones and scenes in Baltimore's transit history, including some never seen before photographs
A tribute the the Museum's founder, George F. Nixon
General information about the Museum


The cost is $6.95 plus $0.30 sales tax. (For mail orders to all states, please send $10.30, which includes $3.00 for postage and handling. Please note: we are required by Maryland law to collect tax on all sales made.)
See our collection of Cat's Meow Ltd.TM collectibles in our Gift Shop, celebrating our streetcars in the B.S.M. collection. They're a limited edition, so get yours soon! The following are available:
Museum
Series #

Description On Back of
Cat's Meow Collectable

Actual Picture of
Collectable

1
Light rail of the past of represented by car #1050 which celebrated is 100th anniversary in 1998. Built by the Brownell Car Company in 1898, this car operated on several lines in Baltimore until the early 1920's.

2
Car #264 marked its 100th anniversary in the year 2000. Built by the Brownell Car Company in 1900, this car operated on four different streetcar lines in Baltimore before ending its work days on the #2 Carey Street line in the early 1920's.

3
Built by the J.G. Brill Company in 1930, car #6119 represents a front/center exit type of streetcar. Baltimore operated a fleet of 150 of these cars on numerous routes in the city until 1955.
We also have plenty of kid's stuff for sale for the younger set. They include such items as:
Coloring Books
Tee Shirts
Thomas the Tank EngineTM
Working Train Whistles
Pens and Pencils
Engineer's Caps
Our Streetcars' Graphics on Computer Diskettes
Video Tapes
Note Pads
. . . and much more!
Future plans include an online catalogue sales page . . .
The book, The Best Way to Go-A History of the Baltimore Transit Company, is available in the Museum's Gift Shop. Read the stories behind the buses and streetcars on display. Price: $15.00, plus $0.75 Maryland State Tax. (For mail orders, please send $18.75 that includes postage and handling in addition to the price of the book and tax.)
AND ALSO . . .
ONGOING AT B.S.M.! Visit Trolley Theatre and view our new 10 minute orientation video, Baltimore and Streetcars, about trolleys and how they built our cities, including, of course, Baltimore. The Trolley Theatre, a 3/4 scale trolley model, was originally installed at the Baltimore City Life Museum. Bring your camera and have your picture taken at the motorman's controls in Trolley Theatre.
NOW AT YOUR SERVICE! We are able to accept either your MasterCard or Visa credit cards for your purchases in our Gift Shop. And . . . use your credit card for payment of your admission into the Museum.
SAY IT AGAIN? Interested in having someone from the Museum give a talk about the history of streetcars in Baltimore? Just drop us a line to B.S.M. Speakers' Forum in care of our mailing address.
NOW HOME AT B.S.M.! Baltimore Transit Company's crane car #3715 is now at its new home, the Baltimore Streetcar Museum, after being away for more than 40 years! This is the ONLY known piece of Baltimore Transit's work equipment on rail ever saved in the 1950's. Tours to view our new acquisition will be available. Just ask the Dispatcher when you pay for your admission.
CONSIDER JOINING US! Why not support the Museum's efforts in preserving Baltimore's street railway history by joining us! By becoming a member, you can even join our all volunteer staff and help with many projects around the Museum. Need an application? Just click below to take you to the benefits of becoming a B.S.M. member.
>>Feel Compelled to Join? Just Click Right Here! <<

Please remember: All but $10.00 of your dues is tax deductible. Why not give a Baltimore Streetcar Museum as a gift for a birthday, graduation, retirement or any occasion. Just write our Membership Secretary for details and a membership application, or print one line by clicking the "Feel Compelled" line above and print out an application. Just mention that you are giving the gift membership for the person indicated on the application.
DID YOU KNOW? Baltimore Streetcar Museum is just more than THE place to visit. It's a great place to rent for birthday parties (children love it here), office parties, meetings or any event that requires a "special touch!" Just call our information line, 410-547-0264 for further details. B.S.M. also specializes in GROUP and SCHOOL tours for all ages! You may also contact our answering service at 443-722-1555 for information. We'll be glad to send you a rental brochure or, if you prefer, you may pick up on at our Visitor's Center.
If you like what you saw here, please tell a friend!
Need Information? - Email The Streetcar Man
Layout and Design Copyright © 1997 by Thom LaCosta
All Rights Reserved