Baltimore Streetcar Museum, Inc.
You should be redirected to our new site - http://www.baltimorestreetcar.org/
in a few seconds -- or, you can click the Administrator graphic to go there now.
Once there, PLEASE sign up for the notication service at the bottom of the home page.
Thanks, the folks at BSM.
---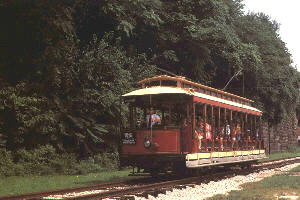 1901 Falls Road
P.O. Box 4881
Baltimore, Maryland 21211
INFORMATION LINE: 410-547-0264
Open Year round - Sunday Noon to 5PM
Open Saturdays (June through October)
Noon - 5PM
Pictures of Our Streetcars
| | |
| --- | --- |
| | World War I brought labor shortages to many major cities in the United States and Baltimore was no exception. For the first time in its history, the United Railways and Electric Company hired women as conductors and later, motormen, to work on the cars to replace the men who had gone off to war. In this picture, the straw-hatted conductorette, as she was known, is adjusting the trolley pole on a streetcar. Route #17 cars ran from Gorsuch Avenue and Harford Road to Westport until June 1947. |
Admission


Adults $6.00 - - - Senior Citizens $3.00
Children (4-11) $3.00 --- Children under 4 FREE
Family Maximum $24.00
Admission includes:
Unlimited rides on original Baltimore streetcars
Access to Displays
Audio visual presentation of Baltimore's streetcar history
Guided Carhouse Tour
Gift shop
Click here for Upcoming Events
BSM is a non-profit, 501 (c)(3) museum , dedicated to preserving Baltimore's public transportation history, especially the street railway era .
How to get here
Click Here for Map
South on Falls Road
North on Charles street to Lafayette, west on Lafayette to Falls Road, north on Falls Road
South on JFX(I-83), North Avenue exit, east on North avenue, two blocks to Maryland Avenue, south on Maryland Avenue.
One block to Lafayette, west on Lafayette to Falls Road, north on Falls Road
->> Feel Compelled To Join? Click Here for An Application <<-
Need Information? - Email The Streetcar Man
Layout and Design Copyright © 1997 by Hon
All Rights Reserved